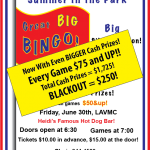 It's time for BINGO! We will hold our 4th annual Bingo Fundraiser on Friday, June 30th at the Los Alamos Valley Men's Club. You will not want to miss this Bingo – we have over $1700 in cash prizes with most games awarding $100 or more! Blackout is $250!!
In addition to big cash prizes we will also have exciting auction items including a Disney ticket package with a 2 night stay at the Anaheim Holiday Inn! Plus, we are featuring Heidi's famous hot dog bar for your dining pleasure. Big cash prizes, Big auction items, a hot dog extravaganza – what else could anyone want?
How about the Big Raffle Drawing! That's right, we will be drawing our TV and BBQ winning tickets during Bingo. There's still time to enter, tickets are $5.00 each or 5 for $20.00
Bingo tickets are $10.00 in advance and $15.00 at the door. Doors open at 6:30 and games start at 7:00.
To purchase tickets for the raffle or Bingo call Gloria at 344-4500
The Los Alamos Valley Men's Club